AU FOOD helps seaweed technology closer to the market - and will welcome more startups
The company Pure Algae started back in 2018 based on a master's thesis. Today, it is a company with eight employees and an almost fully developed technology for land-based production of seaweed. Pure Algae is among the participants in the EIT Food entrepreneurship programme Seedbed, which in Denmark is based at AU FOOD – the Department of Food Science at Aarhus University. EIT Food Seedbed opens for new applications in early 2021.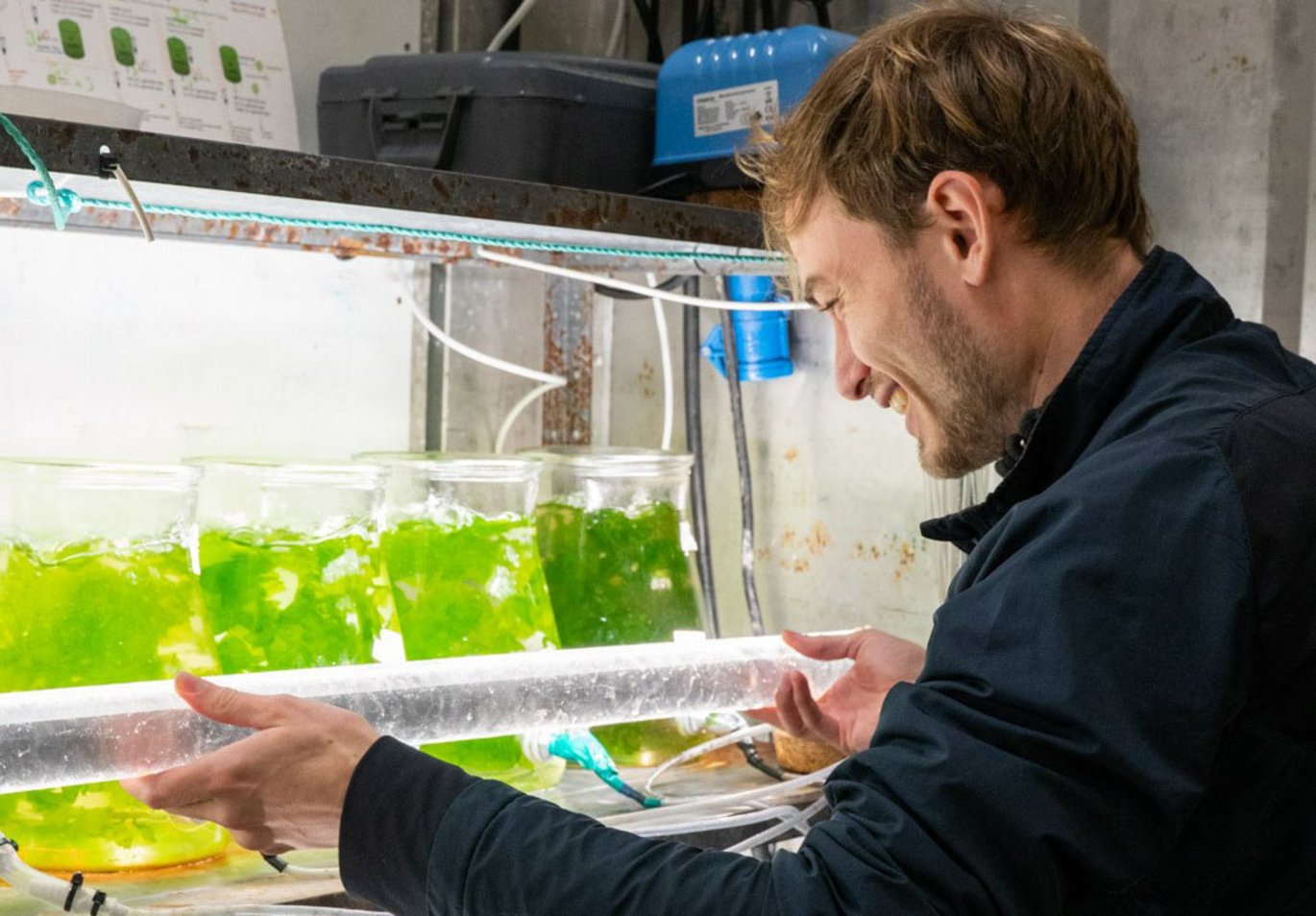 Seaweed is the sea vegetable - bursting with nutrients. In addition, seaweed is a vegetable that has the unique advantage that it does not require resource-heavy irrigation with fresh water. Why then do we not eat more seaweed?
This has surprised Esben Rimi Christiansen, who in 2018 wrote his master's thesis at Aarhus University about the seaweed species Ulva spp. - better known as sea lettuce - and its potential as feed and food. He found that, amazingly, there is no technological solution to produce this seaweed commercially in the northern hemisphere. He decided to do something about it. After his thesis, he started the company Pure Algae on his own.
Help with business development
When Pure Algae really took off, and in addition to the domicile in the Danish seaweed mecca Grenå could move into Agro Food Park, the EIT Food Seedbed Hub in Aarhus, which is based at AU FOOD, also became an important partner:
- At that time, I was able to focus on the development of the technological solution, thanks to funds from the Innovation Fund Denmark, but it was also challenging to take care of the business side of the matter. Here, the EIT Food Seedbed programme became absolutely crucial, says Esben Rimi Christiansen:
- Developing a business model requires time, experience and advice, and here EIT Food Seedbed has excelled. EIT Food has been able to understand our concept. They have equipped us with a strong mentor, such as Christina Yding Hahn Elgaard, who has helped us develop the company so that we can launch our technology in the best possible way, when it is ready. Above all, we have received help with market research and analysis. This has meant that we at Pure Algae have been able to focus on what we are best at - namely designing and building a five-star hotel for seaweed.
At a recent event, Pure Algae was named one of the leading companies in the EIT Food Seedbed programme at the Department of Food Science. The award was an entry ticket to the large Venture Summit conference, which brings together startups, investors and potential customers.
Entrepreneurship programme opens for applications
At the EIT Food Seedbed Hub in Aarhus, General Manager Charlotte Bay Hansen, who is herself an experienced entrepreneur in the food area, looks forward to being able to welcome more startups:
- We will soon open for new applications for the EIT Food Seedbed programme, where entrepreneurs can get up to 10,000 euros to do market research - and receive training and mentorship from the industry. The funds for this come from EIT Food. We hope that many will take advantage of the opportunity to become part of a unique entrepreneurial environment. We are ready to help start-ups that have a good idea in food and agriculture, but who need help to move forward.
---
Further information
Read more about how you can become part of the EIT Food Seedbed programme for entrepreneurs at the website of the Department of Food Science, Aarhus University here
Visit the EIT Food Seedbeds website here
Read more about the company Pure Algae on their website here
About EIT Food: The European Institute of Innovation and Technology (EIT) is an independent body under the auspices of the EU with the purpose of boosting innovation and entrepreneurship in Europe. EIT is an umbrella body for a range of consortia working with innovation and entrepreneurship in various areas, such as climate, raw materials and food.
Contact
Charlotte Bay Hansen, Entrepreneurial Advisor and General Manager at the EIT Food Seedbed Aarhus Hub and Food eHub at the Department of Food Science, Aarhus University - charlotte@food.au.dk, phone: +45 93508925
Esben Rimi Christiansen, Pure Algae, esben@purealgae.dk, phone: +45 60535642