AU FOOD hosting international entrepreneurship programme
The Department of Food Science at Aarhus University, AU FOOD, is a consortium partner in the EIT Food Seedbed Entrepreneurship programme. The programme supports aspiring entrepreneurs to determine whether there is a market for their products or services, within innovative agrifood technologies. The Seedbed bootcamp has just taken place online with great success.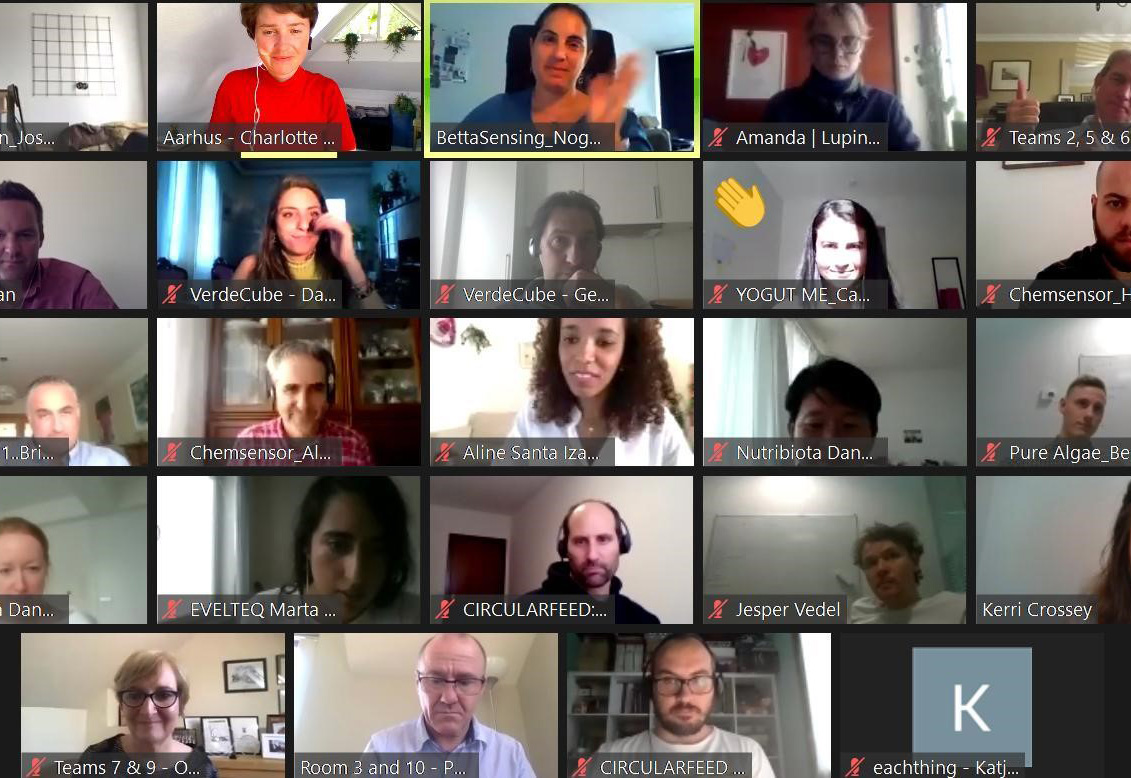 The Department of Food Science at Aarhus University, AUFOOD, is hosting the EIT Food Seedbed Entrepreneurship programme, helping aspiring entrepreneurs to determine whether there is a market for their agrifood products or services.
The Seedbed programme is designed for entrepreneurs developing early stage products or services that utilise innovative agri-food technologies set to make a big impact on any part of the food sector, including the way we produce, deliver, consume, recycle and value our food. It can be within the area of sustainable packaging, biotechnology, robotics and automation, smart farming, ag-tech, big data etc.
ABOUT EIT FOOD

EIT Food is a Knowledge and Innovation Community (KIC) established by the European Institute for Innovation & Technology (EIT), an independent EU body set up in 2008 to drive innovation and entrepreneurship across Europe.

The members of the EIT Food community are world-class players in the international food domain: over 50 partners from leading businesses, research centres and universities across 13 countries.

EIT Food's vision is to put Europe at the centre of a global revolution in food innovation and production, and its value in society. EIT Food will engage consumers in the change process, improve nutrition and make the food system more resource-efficient, secure, transparent and trusted. Visit the official website of EIT Food here

Read more about EIT Food on the official website


High level of engagement
- At Department of Food Science, AU-FOOD, we are excited to be a hub for this year's EIT Seedbed Entrepreneurship programme. The programme allows the entrepreneurs to test the market directly with potential customers and learn how to progress from commercial proposition to validated business, says Charlotte Bay Hansen, who is the local coordinator for the program and manager at the Food eHub at the Department of Food Science.
The 2020 programme has a duration of six months, and it was initiated in the end of May with a four-day online bootcamp. The purpose of the bootcamp was to develop business models based on customer-oriented methodology.
- We are impressed with the high level of engagement all teams showed throughout the bootcamp and their progress in business development and acquired soft skills. The online version of EIT Food Seedbed this year surprised us all positively. All startups are well aligned to the EIT Food focus areas - alternative proteins, sustainable agriculture, targeted nutrition, sustainable aquaculture, digital traceability and circular food systems - and represent sustainable trends in the food industry with new innovative technologies for the food and agriculture sector.
At the end of the bootcamp, EIT Food chose to award seven of the 11 participants with a 10,000-euro grant to further develop their ideas and business development.
Valuable input for entrepreneurs
One of the companies, who based on the bootcamp qualified for the 10,000-euro grant, is the company VerdeCube, locally based in Aarhus.
VerdeCube has an idea that could potentially make it possible to meet the demand for locally grown, tasty and fresh vegetable and fruits in a more sustainable manner. They do so by focusing on vertical farming - that is the practice of growing crops in vertically stacked layers with artificial lighting and soilless cultivation techniques.
Dafni Avgoustaki, who is one of the entrepreneurs behind VerdeCube, explains:
- Our idea, based on an algorithm, which will eventually be evolved into a commercial software tool will be used by vertical farms to help them reduce up to 50% of their electrical energy demand sourcing from lighting expenses. At the same time, for specific herbs, the tool will contribute to increase the annual crop yield production by 10-15%, which actually is pure profit for the vertical farms owners and investors in the market.
The VerdeCube entrepreneurs are currently in the market discovery phase, where they are trying to move from idea to market, and this led them to EIT Seedbed - a decision that they have not come to regret:
- Participating in EIT Seedbed has given us valuable input. Our mentor, Samuel Scheer from Innovation Centre Denmark in Tel Aviv, has been very dedicated to our project, focusing on the potential economic profitability for vertical farmers. Our coach, innovation consultant Shane Meehan, was also encouraging and supportive, helping us by putting a lot of effort into the calculations, and the result was surprising, says George Xydis, the other Co-founder behind VerdeCube:
- We now know that the economic benefit from the increased crop yield is bigger compared to the economic benefit from the reduced use of electricity. It is an important insight, when marketing our product and moving to the next phase in our startup, where we will collaborate with vertical farmers to do large-scale testing.
---
Further information
You can read more about the EIT Food Seedbed program here
Contact
Charlotte Bay Hansen - Manager - Food eHub - Department of Food Science - E-mail: charlotte@food.au.dk - Phone: +45 93508925
George Xydis – Co-founder - VerdeCube - gxydis@btech.au.dk
Dafni Avgoustaki – Co-founder - VerdeCube - dafni_av@btech.au.dk