Interactive conference on novel eating experiences
Inspired by the widespread use of technology in the context of COVID-19, Assistant Professor Qian Janice Wang from the science team Food Quality Perception and Society at the Department of Food Science, Aarhus University is hosting a virtual, interactive conference out of the ordinary. The first ReThink Eating Conference 2020 takes place online on 3 December, and it is free of charge.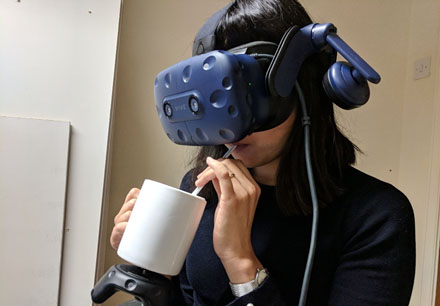 Why do people eat the way they do? How does digital information influence our physical reality? What role can technology play in creating new eating experiences? How can we rethink what it means to eat together?
These are some of the questions that will be addressed at the ReThink Eating Conference 2020 taking place online on 3 December. The conference is free of charge and open to anyone interested.
ReThink Eating 2020 is hosted by Assistant Professor Qian Janice Wang from the science team Food Quality Perception and Society at the Aarhus University Department of Food Science. The conference is part of her Carlsberg Foundation Young Researcher Fellowship project "Virtual and augmented flavours: Extending human flavour perception via novel sensory inputs", where she examines how we can use technology to create new eating experiences.
Not a traditional conference
- ReThink Eating 2020 is not a traditional conference. It is an invitation to people from different backgrounds and disciplines to come together and brainstorm the future of eating. Due to the recent COVID crisis, it has been made clearer than before that we need to rethink not just what we eat, but also how we eat, and who we can share a meal with, Janice says.
The interdisciplinary conference consists not only of a speaker session with keynote speaker Professor Charles Spence from the University of Oxford asking the question: Where are all the magical food and beverage experiences? - It also consists of brainstorming workshops, moderated interviews with questions from the audience and an online experimental dinner.
- Having an online conference, we should not just replicate what we do in real life. We should explore what the digital world offer us that the physical world does not, says Janice.
Janice, who has a background in computer science and experimental psychology, hopes that the conference will attract people of different backgrounds - researchers, students and anyone working with food, including chefs and other professionals, who are interested in the possibilities offered by new technology.
- I am hoping that new research ideas can be generated at the conference, and that we can create new interdisciplinary collaborations - and ultimately novel food experiences, says Janice.
Read more about the conference, see the programme and sign up here
---
Contact
Assistant Professor Qian Janice Wang
Department of Food Science, Aarhus University
E-mail: qianjanice.wang@food.au.dk
Phone: +45 22319864